Topic: "MSPnet Academy: NGSS 101"
Topic Posts
MSPnet Academy Discussion
December 16 - January 2, 2014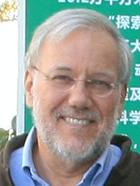 Joseph Krajcik
, Professor, Michigan State University, Department of Teacher Education
Overview: Professor Krajcik will guide you through the fundamental ideas of the Next Generation Science Standards (NGSS). He will discuss the essential aspects of the Framework for K - 12 Science Education and NGSS and will also introduce you to ideas on how to start implementing NGSS in your classroom..
Discussion forums have been archived, posting is no longer available.
This topic has 2 posts, showing all.
Following up
Thank you for your participation in today's webinar on NGSS. I hope that you found it of value.
We can continue the discussion on this form. I'll be available to respond to your questions for the next two weeks.
If I missed your question during the live webinar, please be sure to post it here!
joe
Responding to Ai Vu quesitons
During the session Ai Vu asked: Are there resources that integrate CCSS Math and NGSS Science?
The number of teaching resources related to NGSS are limited. Materials that integrate CCSS Math and NGSS are even rarer.
I'm not sure if you noticed but the performance expectations do make links to CCSS in Mathematics and the CCSS in Language arts.
joe
post updated by the author 12/17/2013