MSPnet is an electronic community that serves NSF's MSP and STEM+C programs.
It welcomes all educators and researchers interested in improving Science, Technology, Engineering, Mathematics, and Computer Science.

The majority of resources generated by NSF projects are available to the public at large and we invite you to visit our library, join MSPnet Academy webinars and sign-up for our newsletter. Members of funded MSP, CE21 and STEM+C projects are encouraged to log-in and make use of Project Spaces for collaboration.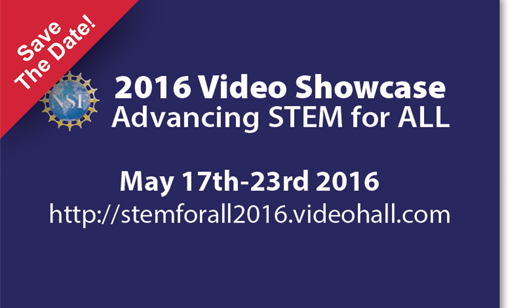 NSF 2016 Video Showcase
Advancing STEM for ALL
On May 17th - 23rd, 2016, more than 150 projects will showcase three-minute videos of their innovative work broadening participation and access to STEM. We invite you to view the videos, join the discussion online, and vote for your favorites.
MSPnet LIBRARY
This week we feature part two of a collection of articles from Education Researcher in which AERA Past Presidents Reflect on 100 Years of Education Research. Browse the Library
New MSPnet Improved Site-Wide Search: Try it out and send feedback
Check out the new site-wide search located at the top of all MSPnet.org webpages. Search for "computational thinking" or any other topic area of interest to you, and you will discover the large number of important resources on the site. You can try searching the entire site, or each area. Try searching the library with over 2,000 full text articles! We'd love to hear from you about your experience.
Send feedback to: contact@MSPnet.org